Interview with Dave Gonzalez from No Depression
The Paladins: Back With a Vengeance
by robert sproul
July 18, 2015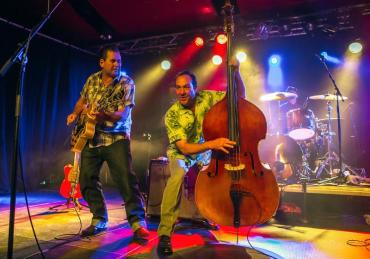 "What made rockabilly such a drastically new music was its spirit, a thing that bordered on mania. Elvis's 'Good Rockin' Tonight' was not merely a party song, but an invitation to a holocaust….Country music in recent years had not known such vehement emotion, nor had black music. Rockabilly was the face of Dionysos, full of febrile sexuality and senselessness; it flushed the skin of new housewives and made pink teenage boys reinvent themselves as flaming creatures."
-- Nick Toches "Country: Living Legends and Dying Metaphors in America's Biggest Music"
"I'm not retired ... just tired" started Dave Gonzalez, lead guitar for the Paladins. I was never sure if Gonzalez was in Southern California or in Austin, Texas, when we spoke. I was checking up on musicians whom I was interested in and was surprised to not only discover that the Paladins had reformed and were playing gigs in Europe but also had a date scheduled to play in San Francisco at Slims. I hadn't been to Slims in quite awhile but wasn't going to pass up a chance to see the Paladins at a terrific club where I had seen them back up Dave Alvin years ago.
Gonzalez is an articulate, informed and reverent keeper of the rockabilly flame in all its influences. I was invited to play records on radio station KKCY back in the eighties and the one record that lit up the phones was the Paladin's first recording on Alligator records. I instantly became a fan and followed their career into the new millennium when suddenly they disappeared. I wondered what happened to Gonzalez and what appeared to be a promising career with a promising band. Much to my surprise, Gonzalez followed the direction of the last few Paladin records, El Matador and Slippin In, which edged further into the country side of rockabilly, and then joined forces with long-time Dave Alvin friend and collaborator Chris Gaffney.
The next chapter after the Paladins for Gonzalez became apparent with the emergence of the Hacienda Brothers the band he formed together with Chris Gaffney. Dave Gonzalez, in my estimation is one of the truly undiscovered keepers of an important link between country, blues, R&B, rockabilly and what Greil Marcus calls the Weird Old America. It wouldn't be a stretch to argue that the music that Gonzalez and the Paladins' have dedicated their lives not to just preserving but expanding upon can be traced back to Harry Smiths "Anthology of American Folk Music." Dave Alvin describes his music as "folk music". Alvin explained in an interview regarding his opinion: "One's louder, it's that simple. It's the same notes. The definition of folk music is something that's very difficult to define and people will start fights and wars over it and my definition is that if you come out of the roots tradition, meaning if you come out of blues and spirituals and murder ballads and all the things from the 19th century and before and the early 20th, if that is your musical background then you can play it just about any damn way you want whether you play it on an acoustic guitar, whether you plug it in and play the exact same notes on an electric." It's no surprise that Alvin selected the Paladins to back him up briefly soon after he departed from the Blasters in the nineties.
The show I attended at Slims in June was like nothing had changed since the Paladins were touring in the late nineties. The band hit the stage and burned through their catalog playing fan favorites including "Powershake", "Looking for a Girl like You" "Lets Buzz", "15 Days", "Tore up From the Floor Up" and the epic guitar workout ""Follow Your Heart." Thomas Yearsley on bass and Brian Fahey on drums provide a tight pocket for Gonzalez to blaze through the history of blues, country and rockabilly guitar, where the listener can pick up strains of T-Bone Walker, Chet Atkins, Les Paul and rockabilly greats like Scotty Moore, James Burton and Steve Cropper soul licks ("Soulfarm" and "Railed")
It was a return to form for the Paladins who evidently picked up rave reviews at the Waterfront Blues Festival in Portland over the 4th of July as well. In my interview with Gonzalez it appears that the band is taking it one gig at a time and not making any long term commitments. Gonzalez explained in great detail what led to the mutual decision to take a hiatus. "We were playing 200 plus shows for twenty year and we all needed a break from the road. We did a million miles at a dollar a gallon" Brian needed to take care of his two sons and Thomas not only had two sons but also had a new studio in California." It was in 2002 that the Paladin band members agreed to go their separate ways and they encouraged Gonzalez to pursue his love of country music . Gonzales hooked back up with Gaffney in Tucson where they had known each other in the past . They put some songs together "that sounded real good and definitely unique especially with Gaff's vocal abilities to blend country with soul music". Jeb Schoonover, the band's manager, suggested that Gonzales send Dan Penn the demos. Gonzalez had met Dan Penn in Europe a few years before. "We hit it off and we stayed in touch. After Dan heard our demos, he drove out to Tucson to, in his words, "see how you boys are getting' that sound…you don't sound like Nashville or anywhere else ..you sound like Western Soul." That partnership with Penn on the early Hacienda Brothers records really helped define their sound and give the their music a seal of authenticity."
Gonzalez talked about driving to Fame Studios with Dan Penn. "I let Dan do most of the talking and just tried and soaked in the stories like a kid listening to his father. We arrived and asked to see Rick Hall. It was so killer to hear those two guys tell stories about past legends. Rick is busier than ever and still totally into making music" Penn was Hall's first songwriter and was his second engineer for years after they moved the first studio from Florence, Alabama (The "F" "A" in Fame). Penn asked about the reverb "chamber" where most of Fame's recordings were made. Hall replied that it was used for storage these days. Hall admitted that "maybe we can clean it up and use it someday." As they drove away, Penn' said "Right now Rick and his studio are just too busy to allow the privacy we need to make our record" The Hacienda Brothers was the group that Gonzales was looking for to reignite the "country soul" genre under Penn's direction. The combination of Gonzalez, Chris Gaffney on vocals, guitar and accordion, Hank Maniger on guitar, David Berazansky on pedal steel, and Dale Daniel on drums proved to be a winning combination. It was a new direction for Gonzalez, who was use to playing two hour sets where he was the soloist in every song. "It was really a challenge to play against Gaff's accordion and David's steel guitar. David plays so soulful. He is a monster and has played behind many legends over the years. I didn't have to take all the solos and could play a variety of guitars from baritone to nylon to steel strings. It felt good to be playing and writing songs for a different style of music that had always been a passion and with such a soulful group of likeminded musicians not to mention, a great producer."
With three studio records in the can and the Hacienda Brothers gathering steam, it was discovered that Gaffney had a variant form of cancer. "After Gaff got sick Gonzalez went back to Texas to put together a tribute album, Man of Somebody's Dreams, to help pay the medical bills." This was followed by an all-star benefit concert. The Hacienda Brothers had a lot of dates booked and it was suggested that Dave and the remaining band members cover these commitments. The band members wanted to take a break which resulted in the emergence of the Stone River Boys with Mike Barfield taking over the lead vocals. Gonzalez discussed this chapter, "Mike wasn't trying to fill Gaff's shoes. He wasn't Gaff but Mike is a great country soul singer much in the style of Charlie Rich, an overlooked Sun Records legend who was certainly one of the first people to pioneer the country soul genre. It's what fell into place. Mike wanted to help out and it worked. We cut four songs in a studio in Nebraska. I pushed Barfield to sing country songs. After we laid down the first few songs he said "okay I've done the country songs now I want to go back and do some soul music."
Fan interest in the Paladins has never gone away – especially in Europe. A few years ago they were invited back to play a festival in Holland which was followed by the Ink n Iron Festival in Long Beach. These appearances have led to additional car club and blues festivals and a new album on Lux Records titled "More of the Best of..Vol 1" (reminiscent of Dyke and the Blazers' two records: "Dyke and the Blazers" followed by "Best of Dyke and the Blazers" or as Gonzalez explained the title for the album, "More of the Best of Jerry Butler") There is a sub culture that follows the Paladins around the world - like many different sub cultures that gather around music genres these days. In the Paladins case it's a distinctive passionate group of fans who emerged in the nineties with the resurgence of roots rockabilly groups including the Stray Cats, The Blasters and Los Lobos – all of which have evolved into true originals with their own take on Americana music. These fans have the car club, fifties rockabilly look and low rider knowledge of the origins of their music. Bruce Iglauer, founder of the independent blues record label Alligator Records, offered to get the Paladins back on Alligator studio but as Gonzalez reluctantly admitted, "as much as we'd like to just couldn't do it right now because he wanted us to start touring steadily and none of us were up for the 200 nights a year lifestyle right now."
My son in law commented after he was introduced to the Paladins at Slims that "it's a shame these guys are not better known. Their level of musicianship is a cut above most of what you hear these days." I'd also add that is rare to hear guitar solos on the radio or the internet today like the solos played by Dave Gonzalez that raise the hair on the back of your neck. Gonzalez made the list of the "2012 101 Unsung Guitar Heroes" by Guitar Player magazine. He played a 1953 Guild and switched to a 1957 Guild that he wore out . Fender made a Signature Model Guild Paladin (Guild x-550) in his honor. In the Hacienda Brothers, Gonzalez switched to Fender Telecasters including what Dave calls a "killer gold-sparkle Buck Owens Tele" along with a 1953 Gibson which he plays on "Wicked." Do yourself a favor and don't miss these guys when they are playing within a 100-mile radius from where you live.